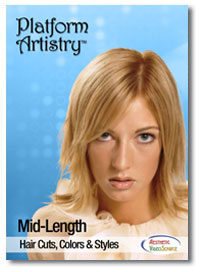 I have mentioned in my earlier posts how bad my hair is getting nowadays. It has become dry and brittle, aside from the fact that it falls at an ample amount. I planned to do those treatments too and while I am at it, I am also thinking of getting a hair cut. No, not to shy away my unglorious hair but just to give my hair a boost with the latest
haircut styles
.
While a trip to the hair salon is quite impossible right now due to my schedule, guess I have to orient myself on
how to cut hair
and browse for great styles that I might apply on mine. Well, there's a DVD on sale that demonstrates the artistry in
hair color
, hair cuts and styles for women. That is a great guide for me to look into how my hair would be, especially this coming Christmas season,
haha
! Here's a sample of their DVD video:
Medium Hairstyles

Medium Hair Cuts | Bob Haircut
Are you a hair stylist? Grab this DVD now for only $49.95. To order, call 1-800-414-2434 or visit videoshelf.com. Great styles for both women and men are in store.